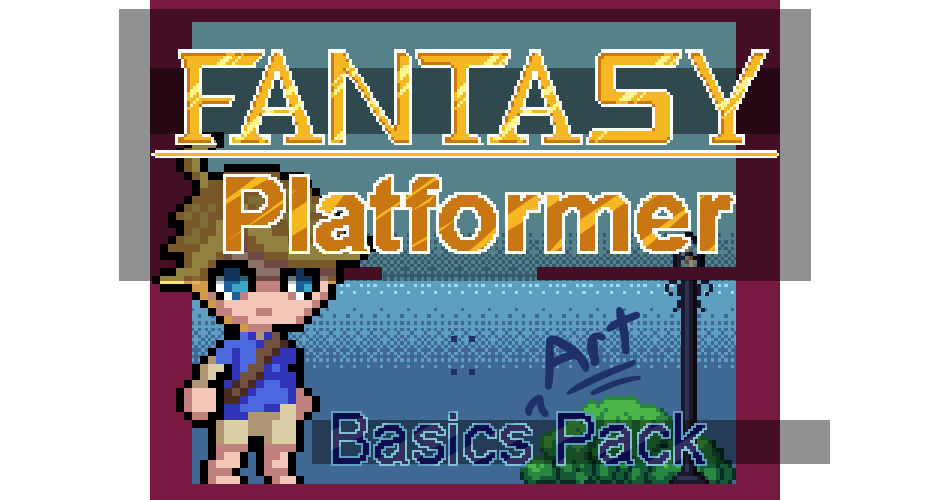 Fantasy Platformer :: Basics (Art) Pack
Terms, Donations, and Upcoming Updates
---
Hey there platformer-makers!
It's been more than seven months since the original release of the Fantasy Platformer :: Basics (Art) Pack, and I've finally started updating the main page and download file with updated terms of use and an addition of a new donate section. I'm even working on a large update to this pack, which will be available sometime in the future!
You can find the updates in the latest download file, as well as the current page for the pack.
Updated Terms of Use
"Updated terms of use you say? Now I have to check if I can still use it!" (/@o@''\)
Don't panic.
These are the only things changed in the terms:
Added "Add a link from the credits page that leads to here :: https://smashartist.itch.io/"
Changed "You may edit the sprites for personal use ONLY." ...

...to "You may edit the sprites for your own use only.

You may NOT share edits to art from this pack."

Basically just re-worded the original term to make it more clear what I meant.
This updated version just means that you can make edits and use them in your non-commercial/commercial game, but don't share the edited art from this pack for other people to use.
Still confused?
Feel free to leave any questions down below and I'll answer them best I can.
Donate Section
From the start, there was already a donation option, however I found that it didn't explain why I need help, so I created the Donate section.
What is it?
Basically the donate section highlights ways you can support me and why.
Here's the gist of it:
Why donate?
Supporting me and my work gives me the encouragement to create more art packs. I am planning to create some various other art packs including differing platformer themes, a top-down RPG basics art pack, and general character portraits. Currently these art packs are planned to be paid, however the more support I get, the more likely they'll be free!

How do I donate?
You can choose to support me by directly donating the amount you want when on the download page.
Upcoming Pack Update
I already have started working on a future art update!
This update will contain:
Updated/Revised animations for:

Main Character
Slime Enemy
Coin

New animations for:

Main Character
Slime Enemy

New assets such as:

This update is to show my appreciation of my first ever donation!



Thanks for checking this update out, stick around for future ones!
Until then, keep making awesome games!
Files
Fantasy Platformer - Basics Pack_Ver1.0.zip
28 kB
Feb 18, 2019
Get Fantasy Platformer :: Basics (Art) Pack